WITH CHOICE COMES FREEDOM
"A brilliant start to what should be the next 'BIG THING'."


"Wonderful...I just loved it."


"Wow! I feel as if I've been on an intense journey."


"C.C. Mono has laid the foundations for a truly brilliant series."


"The author has one of the most engaging writing styles I've run into in a while, and a real facility for dialogue."


"Original and fascinating."


"It's fast-paced and exciting, set in a unique environment. Definitely worth reading!"


"What a fantastic book and what an incredible film it would make."
Book #2 to be released in May 2018!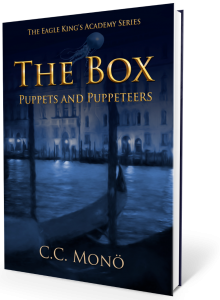 It's time to return to the secret world of the Eagle King's Academy.  The second book in the series – THE BOX: Puppets and Puppeteers – will be released in May 2018.